Pharmacy Point Of Sale Solution
In order to ensure compliance with the Drug Track and Trace System for pharmaceutical products (RSD) that established by Saudi Food & Drug Authority, as one of its plans to contribute in achieving the kingdom's Vision 2030, MARMARA has developed (QSELL®) system to provide a connected POS system that is compatible with RSD, so the pharmacy can conduct sales and tracking operations in real time. We help the pharmacies from QSELL® point of sale system to be abide by the instructions, to stay safe and secure, and to protect pharmacies from exposure to violations.
Is the point of sale system in your pharmacy comply with RSD?
We are Integrated & Complied with RSD

Our team was able to integrate the QSELL® Point of Sale system with all of the controls required by the RSD platform, allowing the QSELL® to handle all operations related to receiving goods, issuing invoices, and sending and receiving notifications from the RSD platform automatically.
Some of QSELL® actions that performed automatically with RSD:
Receiving and processing of drugs
Transferred drugs between multiple pharmacies
Sales & returns
And all other reciprocal integrations between QSELL® and RSD
We are Certified & Approved from ZATCA
The Authority undertakes to collect Zakat, taxes and customs duties achieving the highest level of taxpayers' compliance in accordance with the best practices by providing high-quality services. QSELL® point of sale system is automatically integrated with ZATCA in all stages of work. We are proud of our accreditation by ZATCA as an approved supplier of the systems that integrated with Zakat, Tax and Customs Authority, as is the case with our other systems.
We are Support E-Invoicing (FATOORAH)
We are proud of the efforts made by our team, which enabled us to passed the qualification process and criteria aims to allow us to easily reach potential solution providers. Electronic invoicing is a procedure that aims to convert the issuing of paper invoices and notes into an electronic process that allows the exchange and processing of invoices, credit notes & debit notes in a structure electronic format between buyer and seller through an integrated electronic solution. QSELL® provide solutions that meet the requirements of issuing electronic invoices and notices.
No Data Entry Required
To make it easier and faster for you to get started with the system, we've entered all of the important information on your behalf. You will be able to work on the system immediately once it has been installed, without having to enter data first. All supplier and drug data, as well as price details, are available through the QSELL® system. Therefore, the QSELL® system will eliminate the need for data entry operations. ​
Multi-Pharmacy Management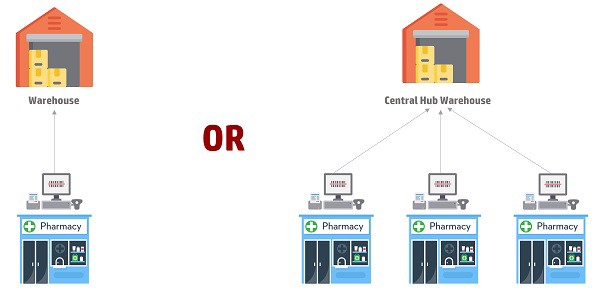 Integration for The Clinical Pharmacies
We assist pharmacies that are often located within hospitals with completing the RSD integration process or installing the QSELL® system and integrating it with the hospital's internal systems. QSELL® is a versatile system that can handle a wide range of diverse and sophisticated enterprises, and it comes with a long list of features that make it one of the top POS systems in the region.
Invoicing Sell, Buy
One of the most important tasks of a POS system is to keep track of the transactions that took place in your shop. When waiting lines expand, it's critical to record sales transactions promptly in your system, thus having software that allows you to scan and sell things without wasting time is beneficial to a pharmacy. A variety of invoicing transactions are possible with QSELL®. Merchants may use QSELL® to keep track of (Quotations, Order, Back order, Delivery request, Delivery note, Invoice, Return) Your store's invoicing gets easy with QSELL® point of sale. Because everything is in the POS system, managing customer and supplier invoicing becomes lot easier. If you sell a product to a customer, for example, the invoice will be recorded in QSELL® system. As a result, estimating your inventory is easy because the system maintains your buy and sale data. It's simpler to keep track of your merchandise when there are fewer mistakes in your inventory deductions.
Outstanding Inventory Management
QSELL® point of sale system allows you to monitor your inventory in real time and see how much you own over a given period of time. All you have to do when you receive your order is scan or input the products, and everything will be recorded in the program. Once you've scanned all of your things, determining the number of each item in your inventory will be considerably easier. This makes determining how much you should have and how much you really have much easier. Because to losses, theft, and other factors, the assumed quantity may differ from the actual quantity. With this sort of feature, managing your inventory becomes a breeze. QSELL® POS system allows you to see what current stock have in their pharmacies without having to perform time-consuming and tedious human inventory inspections. Having a stock count report and being able to regulate it is much easier.
Customer Orders
Customers may occasionally request that you hold a product for them to purchase later. The same thing happens when you run out of a certain item and a customer is eager to purchase it. This is a request from a customer. An order is placed when you jot down a customer's contact information so that you may notify them when the product they are interested in is now available in the pharmacy, as stated on the invoices. In QSELL®, for example, all you have to do is scan the product code and enter it into the customer's file in the order module to make a customer order. The cashier views the order module once the product is offered in your store and sees that it is available. After that, the staff can call the customer and let them know that the item has arrived. The consumer takes possession of their item and completes the transaction to complete the order. This function is beneficial to customer satisfaction since it assists the shop in meeting the demands of the consumer and ensuring that they are happy with their purchases. This might result in increased income for the firm.
Supplier Orders
A supplier order differs from a customer order in a few ways. It helps in the planning of your orders with your vendors. When a product in your store runs out of stock, just scan it and send the relevant information to your supplier. It might be the amount, pricing, or something else entirely. All you have to do now is finish the order transaction after you've scanned the items you're missing. If you've integrated with your supplier (which may be integrated with QSELL® POS system), they'll be able to receive and process your order immediately. You may always edit the information on your order or cancel it at any moment. All of your supplier orders will be stored in the system, and placing orders will be simple owing to the QSELL® system.
Integrated Supplier Purchases
QSELL® system can also keep track of purchases made from vendors. Supplier purchases are important for proper inventory management and can be undertaken to ensure the business's operations. For tracking purposes, all purchases made by the shop may be instantly logged in the QSELL® system. Having a QSELL® system that allows you to make purchases from your suppliers will make inventory monitoring easy to follow. It will be easier to organize your orders with your suppliers and know the quantity you require if you have a purchasing feature. This will allow you to keep the bare minimum of goods on hand while also reducing your costs. A QSELL® system also allows you to limit consumer orders based on the amount of inventory in your pharmacy.
Consistent & Customizable Reports
QSELL® system allows you to generate reports on a variety of topics, including accounting, sales, inventory, and so on. It outlines the pharmacy's actions over a certain time period and allows for the tracking of the pharmacy 's progress. Reports will be easier to develop and evaluate than ever before. Reports for many parts of the pharmacy are automatically generated thanks to QSELL® system. Sales, contacts, pricing, acquisitions, inventory, and so on are all included. It would be easy to compare your pharmacy's development and create new goals for your pharmacies if you have reports for multiple areas.
Quick Keys & Product Lookup
Quick keys are shortcuts within QSELL® system that allow associates to hit a single button for a commonly sold item. Meanwhile, the rest of your catalog should still be easily accessible. When it comes to ringing up sales, use a QSELL® that allows you to easily search or lookup goods. Ideally, this search feature is right on the sell screen so your cashiers won't have to jump into another screen just to look up an item.
Multiple Payment Methods
Go beyond traditional payment methods like cash and credit cards. QSELL® allows you to take mobile payments. You also want to be able to split a payment in case a customer wants to spread their payment across a few gift cards.
Returns, Refunds & Store Credit Features
Consumers are increasingly preferring pharmacies with shopper-friendly rules, therefore a pharmacy's return policy might be critical to its success. QSELL® system may assist you in developing the right return policy for your pharmacy by allowing you to return products for both refunds and store credit.
User Accounts & Permissions
Unless you're a one-person shop, you'll almost certainly have several individuals operating the registers. You'll need a system that lets you create a user for each of them so you can keep track of how much money they make. This functionality will eventually enable you to create sales targets (or see if one of your employees is perhaps being dishonest). QSELL® allows you to password-protect each user and allows you to select whether or not you want each new sale a user makes to need them to check in.
Customer-Facing Display
QSELL® allows a customer-facing display which allows a consumer to observe the transaction take place on a (typically secondary) screen as they are being rung up. Customer-facing displays provide a high level of transparency into the transaction and make it simple for customers to point out any errors in the order before it is processed.
Bulk Product Import
QSELL® allows you to bulk upload all of your items. Unless you just have a few drugs for sale, manually uploading each product will become laborious and time consuming when you can simply purchase a system that can conduct a bulk upload. QSELL® uses CSV (comma-separated value) files to perform this kind of bulk task.
Barcodes
QSELL® capable of printing barcodes (or other labeling methods) so that each of your items may be precisely identified and tracked. The inventory system may use the barcode to figure out exactly where the item is in your system. When an item is added to your inventory, shipped to another pharmacy, or sold, barcodes will be scanned.
Stock & Auto-Filled Orders
It should be simple to order extra items for your pharmacy using QSELL® inventory management system. You should be able to build the stock order in your system and then send it to your suppliers. Pharmacies will profit from a technology that can create orders for them automatically. An auto-fill tool will save you a lot of time if you have specific things that are always in demand.
Inventory Counts
Inventory counting is time-consuming yet required in order to keep track of your supply and detect shortages. QSELL® makes inventory counting easier, but you should also utilize one that allows you to use a scanner instead of counting manually.
Stock Transfers
QSELL® stock transferring feature is essential for a pharmacy with many physical locations. Stock transferring allows you to simply transfer items across pharmacies and shift inventory from one area to the next.
Promotions
You may need to run promotions or discounts to move your inventory. QSELL® lets you do this easily, so you won't have to worry about manually updating prices or product info when you're discounting.
Customer Management
QSELL® have a simplified CRM, or customer manager, as part of its solution so you can keep track of all your client information. Customer history is attached to each profile Each customer's purchasing history should be recorded by your contact manager. This will allow your staff to return items if the receipt is misplaced, or even check in to discover what a particular customer wants to buy. In a wider sense, the purchase history might assist you with sales and marketing decisions.
Loyalty program
One of QSELL® features is a loyalty programs to help your pharmacy expand.
Time is Money
QSELL® system will simply save you time and increase your revenue. Indeed, these functions are greatly useful to manage your time in other projects for more profits and to reduce your costs. The fact that the QSELL® performs many tasks on its own reduces the workload. For example, knowing the current stock in your store and knowing your sales at any given time is a great time saver for merchants.